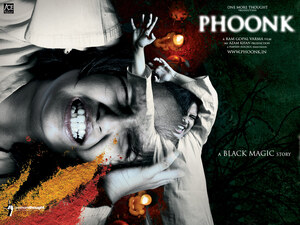 Rating: 6/10
Entertainment value: 7/10 (an Indian remake of the Exorcist deserves at least that much!)
By the end of this movie, I'd realised two things - I'm susceptible to the visual medium and I have an extraordinarily ordinary taste in them.:)
Do NOT expect superior sarcasm about all things here...
I loved Phoonk!! I screamed at regular intervals and chewed off my nailpolish (it was half gone anyway, so not a big loss). I'd say it's a thumbs-up for the director if a 40 yr old can confess to that.
The ethics: Again, I'm seriously astonished and thrilled that movie-makers are BEGINNING their pictures with a reassurance about their not hurting animals in the making of their films. Gosh, times have changed for the better, thanks to all our activism of a decade ago!
There was a crow, and intelligent looking as they are, I thought the film-maker put it to very little use except as an object of foreboding.
There was a great looking hero though... a Kannada star. Something really goodlooking about him. His proportions were quite perfect, which was appealing, and he did the primary south indian male emotions of rage and impatience with women to a T.